Speaking Topics Include:
Your Personal Power: Becoming Your True Authentic Self
Heart Tuning: How to Connect, Express, Expand & Heal. Increase Self Love & Confidence
Vibe Alive Again: Overcoming PTSD, Anxiety, Depression, Addictions, & Human Trafficking
Experience Katie for yourself and your organization!
She performs to a wide age range of audiences (Ages 3-90's) in fun group settings that are interactive, providing "edutainment" that makes a positive impact on your audience.
She shares incredible stories, and messages from the heart that motivate & inspire!
Experience deep emotional heart tuning to move your audience to the core like no other!
She is a powerful speaker!
Book her for your next event!
Katie regularly performs at:
*Conferences
*Seminars
*Women Retreats
*Corporate Trainings
*Colleges (incl. commencements)
*High Schools (incl. commencements)
*Music Festivals
*Private Events
Learn more about Katie's motivational keynote concerts and private unplugged concerts!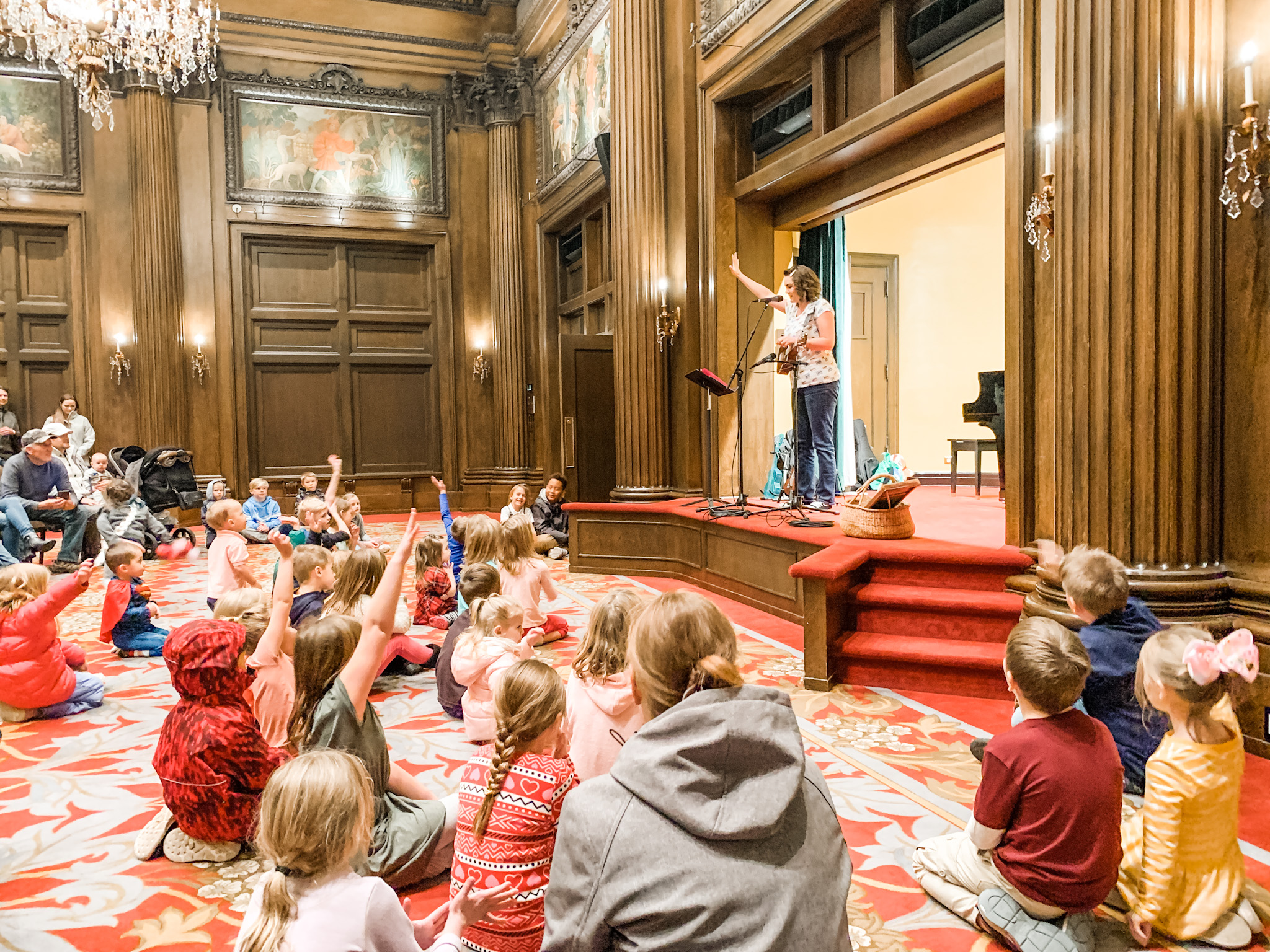 Katie's Experience
STAGE
Jan 2000 - Present
Miscellaneous Speaking-Singing Stage Performances:
•Lifted Women's Summit- "Heart Tuner" Speaker
•Lift United Family Conference & Retreat- Speaker
•TEDxIdahoFalls 2020 Speaker-Singer- (Its Okay Not to be Okay) & the worldwide premiere of her original customized song "It's Okay"
•Women's Soul Summit-Opener & Closer Speaker-Singer, Performed "The Lioness"
•Temple Square New Years Eve 2019- Kids Interactive Show
•Dolby Theater- Advanced to Hollywood Week Singing on American Idol, ABC Network, Season 1
•"You Matter To Him" Event- Speaker-Singer
• Rosebowl - Performed with Night Shift and Blue Note Swing Orchestra
• California Speedway - Sang the National Anthem
• Marriott Center - Singer- National Anthem for BYU mens & womens basketball games
• Energy Solutions Arena - Performed with William Close & the Earth Harp (NuSkin's Convention)
• Utah State Capitol - Co-headliner with Ryan Innes(from "The Voice") and Jarrett Burns
• Sandy Amphitheater - Opened for Jon Schmidt now known as "The Piano Guys"
• Energy Solutions Arena - Performed with Alex Boye
• Price City Civic Auditorium - Headling act
• Riverside Plaza- Jazz Vocalist for Empire Swing Orchestra
• Riverside County National Date Festival - Speaker Singer Performing act
• Marriott & Hyatt Hotels in Maui, HW - House band with Night Shift and The Blue Note Swing Orchestra
• Salt Palace Convention Center - Performed in DoTERRA's Got Talent
• Velour - Headlining act
• Long Beach State University Pyramid - Sang the National Anthem
• Corona Convalescent Home, Soup Bowl Event - Speaker
• Norco Valley Fair - Sweepstakes winner for all around talent
• Riverside Plaza - Performed with Empire Swing Orchestra
• Orpheum Theater - Advanced to Hollywood Week for American Idol season 6
MUSICAL THEATER
Jan 2004 - Present
Miscellaneous Theater Companies
Performed in the Following roles:
• Doris MacAfee-"Bye Bye Birdie"
• Reno Sweeney - "Anything Goes"
• Dorthy - "Wizard of Oz"
• Millie Dillmount - "Thoroughly Modern Millie"
• Lina Lamont - "Singing in the Rain"
• Ado Annie - "Oklahoma"
• Mrs. Potts - "Beauty and the Beast"
• Adelaide - "Guys and Dolls"
• Crystal (Do-wop girl) - "Little Shop of Horrors"
• Marty - "Grease"
• Bunny - "Babes in Arms"
• Rosemary - "How to Succeed in Business without ReallyTrying"
• Mrs. Cratchet - "The Christmas Carol"
*Additional Ensemble roles in 10 plays: Fiddler on the Roof, Once upon a Time, Bye Bye Birdie, Murder Mysteries (7 different plays)
PROJECTS
Jan 2010 - Present
Composed and Performed for the following Projects:
• Custom Song Projects(www.writemyheartsong.com) for Individuals Weddings, Brand Messages & Companies: Brianne Johnson, Jessica Blackhurst, Gregg Driggs, LuLaRoe, Creative Music Lessons, SY-Audio, AudioSparks, RadioSparks
• Dance Dance Revolution - Magic Parade: Composed music and performed vocals.
• FennWorld - Video of the country Turkey, and Iceland: Composed score and perfomed vocals.
• Katie D. - Released EP album called Turquoise Feelings on iTunes, Amazon, ReverbNation, CDbaby, indiemusic.com, tinkerbox, etc.
• Nik Day - Interesting Shades of Blue(album): back-up vocals.
• WetWindows - Composed music for the musical DENSITY
• Illumin8ed Productions, Uphill Battle (Movie nationally released summer 2013) Song "She Knows" - arranged, recorded and performed vocals.
• AromaTools – Modeled in retail store, & music composer for promotional videos: Diffusers & Romeo & Juliet Parody(Modern Essentials Book)
BOOK KATIE
TO SPEAK & SING

AT YOUR NEXT VIRTUAL OR LIVE EVENT

Contact: Greg Dellenbach at 951-532-1239, email BookKatie@iVibeAlive.com or fill out the form below.

Please include the following information:

- Your full name and contact information including phone and email

- The name of your venue or institution including mailing and web address

- Date(s) that you would like Katie to perform

- Attach any appropriate contracts or forms of agreement

- Include any other information and/or questions you may have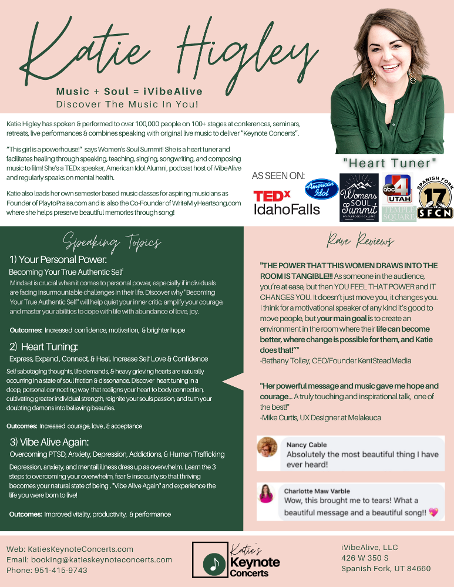 Book Katie For Your Next Event!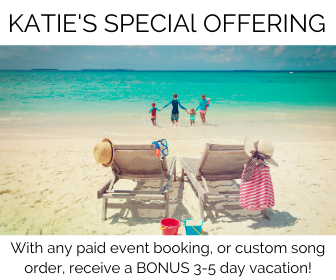 Would it be okay if you enjoyed an amazing 3-5 day vacation for blessing me with the opportunity to speak and sing to your audience?!? You see, I am a giver, I give my heart, my time, my talents and AWESOME gifts to my friends who bless me with the opportunities to make their lives better. I feel it is a privilege that you would consider me to speak to your audience and I don't take that lightly. I appreciate you, your time and the light you are in the world. I have been able to partner with amazing companies to make this bonus offering possible!...and no, you do not have to watch a timeshare presentation to receive this gift! Please accept this token of my appreciation for booking me at your next event!"
You have the option to go to various destinations such as:

Cancun

Puerto Penasco

Mazatlan

Nuevo Vallarta

Orlando

Las Vegas

Branson

Williamsburg

Gatlinburg

Acapulco

Tenerife

Koh Samui

Phuket

Myrtle Beach
Daytona Beach

Bali
(*More details are given after booking your next event with Katie)
Like I mentioned previously, I am so grateful for my friends that I get to work with!
If you are an individual who has a family, take them on a vacation, if you are a private organization raffle this gift off at your next company event, or use it as a reward to a special employee!
My desire is to provide the best possible experience for you and your audience! Let us make this world a better place, together!
iVibeAlive with Gratitude & Love For You,
Katie Higley
Katie Higley has spoken & performed to over 100,000 people on 100+ stages at conferences, seminars, retreats, live performances and combines speaking with original live music to deliver "Keynote Concerts".
"This girl is a powerhouse!" says Women's Soul Summit, she made it to Hollywood week on American Idol, ABC, Season 1, a TEDxSpeaker and regularly speaks on mental health.
Katie also leads her own multi training semester based classes for aspiring musicians as founder of PlayToPraise.com & preserves meaningful memories through music as co-founder of WriteMyHeartsong.com.

© Copyright iVibeAlive, LLC